Sterling Silver Teacher Charm Bracelets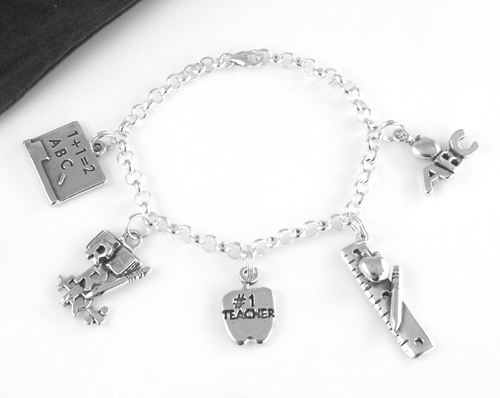 Sterling Silver Deluxe Teacher Charm Bracelet. This beautiful charm bracelet is perfect for a very special teacher. This charm bracelet features the 4mm rolo charm bracelet that could be hooked shorter if needed. It has five substantial, cute teacher charms attached with sterling silver split rings. The silver teacher charms attached are - a sterling silver chalkboard with 1+1=2 and ABC engraved; the three R's with pencil teacher charm; a silver #1 teacher in apple charm, the silver teacher's ruler charm with an apple and pencil and the classic ABC with apple charm. All of the charms and the charm bracelet are solid .925 sterling silver. This is a perfect gift that several people can go in together to give a very special teacher. This charm bracelet is an heirloom gift that can be handed down through the generations. The teacher that receives this charm bracelet can add additional charms later. A wonderful gift for Teacher Appreciation Week for that teacher that has gone above and beyond. This gift comes with a purple gift pouch.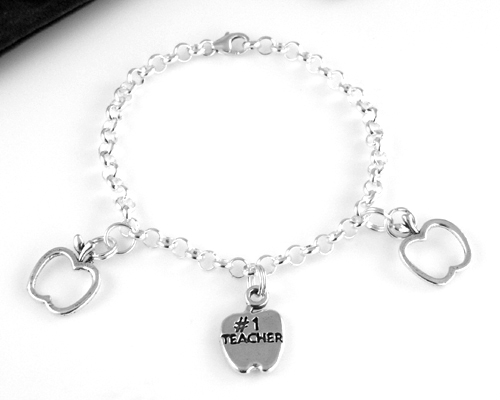 Sterling Silver Basic Teacher Charm Bracelet. This bracelet is a less expensive option for a special teacher. Show your appreciation for the hard work teachers do every day with this special gift. This charm bracelet features a solid .925 sterling silver 4mm rolo charm bracelet with 3 sterling silver charms. The silver charms include a #1 teacher charm in apple in the center and two open apple charms on each side. The charms are attached with split rings and more charms can be added later. A great Teacher Appreciation Week gift or end of the year teacher gift.