Sterling Silver Adjustable Princess Charm Bracelet
An adjustable charm bracelet with five charms!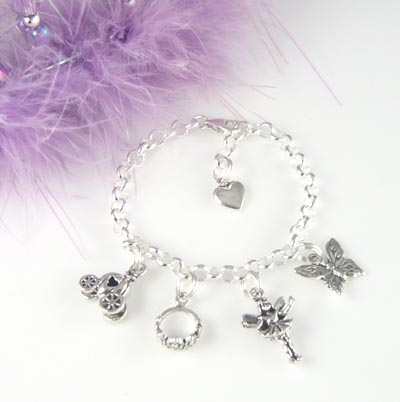 Sterling Silver Princess Charm Bracelet. This cute charm bracelet features an adjustable rolo charm bracelet with a heart charm attached on the end with a split ring. This lets you hook the charm bracelet anywhere for different sizes and let the heart charm dangle. This charm bracelet includes five charms total - the heart on the end, a Cinderella's carrage charm, a tiara charm, a fairy charm and a butterfly charm all connected with split rings. These charms and the charm bracelet a all solid .925 sterling silver. This a perfect charm bracelet for a child and more charms can be added later. The bracelet adjusts down from the size you choose. This princess charm bracelet is available in 6", 6 1/2" and 7".



A neat bracelet that can be handed down through the generations and since it is solid .925 sterling silver, a beautiful investment.